Staff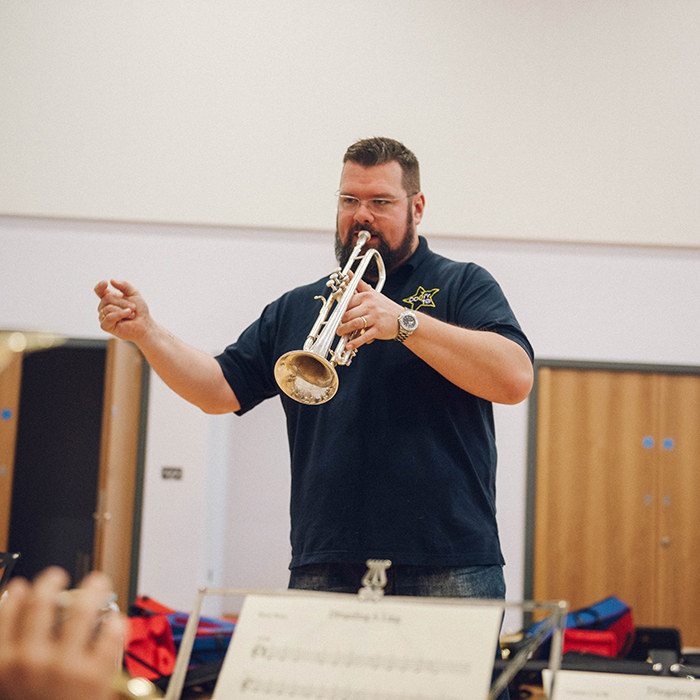 Bari grew up in Llanddona, Anglesey. Bari has played and enjoyed the Cornet and Trumpet since learning at 5 years old, by playing with Beaumaris Brass Band. He was a pupil at Ysgol David Hughes and over the years won a number of playing awards in local and national competitions.
He graduated from Huddersfield University Music School in 1999, during which he spent time playing with some of the most prestigious brass bands in the world including Black Dyke, Brighouse, Rastrick, Fodens, Carlton Main and Cory. Bari has also played for numerous pop groups from England and Wales including Anweledig, Gai Toms, Geraint Lovegreen and The Beautiful South to name a few. Bari is also a member of Llareggub Brass Band and has travelled across Europe and America.
During his career Bari has performed on some of the biggest stages in the UK, such as Bridgewater Hall, Symphony Hall, Sage, and the Albert Hall in London. He has shared the stage with big names like Bryn Terfel, Sian Cothi, Gwyn Hughes Jones, Clare Teale, Derek Watkins, Tony Fisher, Rhydian and The Proclaimers.
Bari Has worked in the world of education since graduating, and has taught at Bradford as a music teacher, Ysgol Brynrefail as Head of Music, and Ysgol Gyfun Llangefni as Head of Year and Head of Music. He works as a music advisor during the remainder of his time, advising on the new Curriculum on creativity.
Since joining Codi'r To in 2014 Bari feels that the project is very valuable and that the use of music to develop an individual's skills is incredibly effective, and also conducive to bringing the local community together.
Originally from Bethel near Caernarfon, Berwyn now lives in the town itself, a stone's throw from Ysgol Maesincla. He graduated from Bangor University Music School with a Masters in composition.
He has played trumpet since he was in Primary School, where he learnt his trade by playing with Deiniolen Silver Band. After finishing secondary school he began playing with the welsh funk band Derwyddon Dr Gonzo, and these days plays with Llareggub Brass Band. He enjoys playing various instruments, including the piano, banjo and trombone.
A member of Codi'r To's team since 2015, Berwyn enjoys working with children that otherwise would not have received instrument lessons, and looks forward to continue doing that in the future.


Originally from Birmingham, Lucy has lived in Wales since 1996, when she came to Bangor to study music at the university. She plays piano and clarinet, but since joining Codi'r To has started learning the Tenor Horn! Her main interest lies in presenting music to young children, in which she utilizes Dalcroze Eurhythmics and Kodaly methods as a practitioner. She enjoys helping the children learn through singing, moving and having fun!
In 2002 Lucy received a Churchill Scholarship to research interactive learning in America, Germany and Luxembourg, and in 2004 she received a Professional Development Certificate for "Music in the Early Years (Kodaly)". She received a certificate for Dalcroze Eurythmics in 2018. At the moment she is studying for Kodaly "Primary Level 2".
In addition to working with Codi'r To, Lucy is a member of the education team of Ensemble Cymru.
Lucy joined Codi'r To in September 2016, and enjoys being part of an inspirational project, especially the enjoyment of music by children.
Originally from Bangor, Iolo started playing drums in secondary school through lessons provided by The William Mathias Schools Service. During this time he joined and performed with numerous local brass bands, symphonic bands, and orchestras. Through these groups he was fortunate enough to be given the opportunity to perform on some of Britain's most famous stages, including The Royal Albert Hall, and Birmingham Symphony Hall.
After leaving school he attended The Academy of Contemporary Music (ACM) in Guildford, and graduated from the Professional Music Performance course in 2011. While there he formed a "progressive metal" band with other musicians from the ACM, and performed numerous gigs in the London, and South England area.
In 2013 he moved back to Bangor, and began working for the William Mathias Schools Service as a peripatetic teacher. That summer he started learning to play traditional Samba music under the tutelage of Colin Daimond, and joined his band Bloco Swn, and has since been performing regularly with the Samba band at many different events.
In 2014 Iolo joined Codi'r To as a percussion tutor. He enjoys his work very much, especially being able to bring his varied experiences and influences to teaching the children about rhythm. As well as helping the children in the schools, and the people of the communities around them, to develop their interpersonal skills, and life skills through music. 
Osian joined Codi'r To in early 2020 to help coordinate the Music Communities project.
After graduating with a Master's degree in Music from Goldsmiths University, London, Osian has worked managing art and music projects for organisations such as the Sir John Soane's Museum, Community Music Wales and Galeri Caernarfon.
Also, as a multi-instrumentalist, Osian has been an active musician for many years appearing in festivals such as Glastonbury, Latitude, Radio 1 Big Weekend and Camden Crawl, as part of various groups and bands such as Yr Ods.
Now, having joined Codi'r To, Osian is excited to be part of such a new and innovative project and hopes he can use his experience and knowledge to add value, ensuring the project is a success.


Carys Bowen is the co-ordinator for the Codi'r To programme. Following a 20 year career in television production, working for various production companies, Cwmni Da, Ffilmiau'r Nant, Tonfedd Eryri and Telesgop, Carys was appointed project co-ordinator for Codi'r To in December 2013.
Carys is proud to be a part of the Codi'r To team and witnessing the positive effect of music on pupils, families and both communities in Bangor and Caernarfon.
| | |
| --- | --- |
| | |